Stressful speeches, hours-long lectures, sleepy lectures. Conferences can be tiring, and if they last several days, they can squeeze the last vital forces out of a person. Business meetings, do not have to be associated with boredom, routine and stiff atmosphere. When organizing a conference in a spa hotel, take care of a relaxing element, entertainment for that something, that wow effect. Let it be a pleasant session in the spa, dedicated business spa packages for groups. In this article we will reveal what treatments will effectively relax stiffs in suits 😉.
Corporate SPA in a hotel
Christmas Eve corporate meetings, conferences, trainings, business meetings. So far, your business events have been held in-house or at a nearby restaurant?
Probably these events always looked the same, participants just waiting for their lunch break, no motivation, no commitment, just to finish. This is how most corporate events are. That is, the same way, without an idea. Because that's what the idea is all about here.
And the conference in luxurious SPA hotel with a group spa package is already an event everyone wants to attend. Spa for companies in a hotel is to be an addition, a gift, an attraction to conference offer. A spa package is such an icing on the conference cake, and will increase conference ticket sales (if there is a fee to attend the event). A visit to the SPA will have a positive impact on learning efficiency and productivity.
After a busy day, each of us dreams of relaxing in the comfort of the SPA parlors. You as an employer have the chance to make your employees' dreams come true. A spa for the company at a hotel is a great idea for a reward for employees, a way to motivate them to work. Maybe next year, instead of gym passes, offer your employees group spa packages as part of your social package?
Business in the SPA salon
A visit to the spa is all good, and after all, you want the best for your employees, right?
Such a business spa package for groups usually includes accommodation and catering. It works well for multi-day events. A short restorative break during a business trip will transform the formal nature of the trip. Employees' stay at the spa will not only improve their well-being, but also strengthen team relations.
You work together, you rest together, you spend time together. This makes the group stronger. The relaxed, laid-back atmosphere is conducive to conversations, not just business ones. Work and relaxation in one place. It's time to specifically propose this relaxation at the spa.
We have prepared three proposals spa packages for groups. Each of them differs in treatments and price. You can compose the packages individually with the help of SPA cosmetologists or use ready-made proposals. The price, as well as the duration of a given treatment depends on the number of people and the length of your stay at the hotel.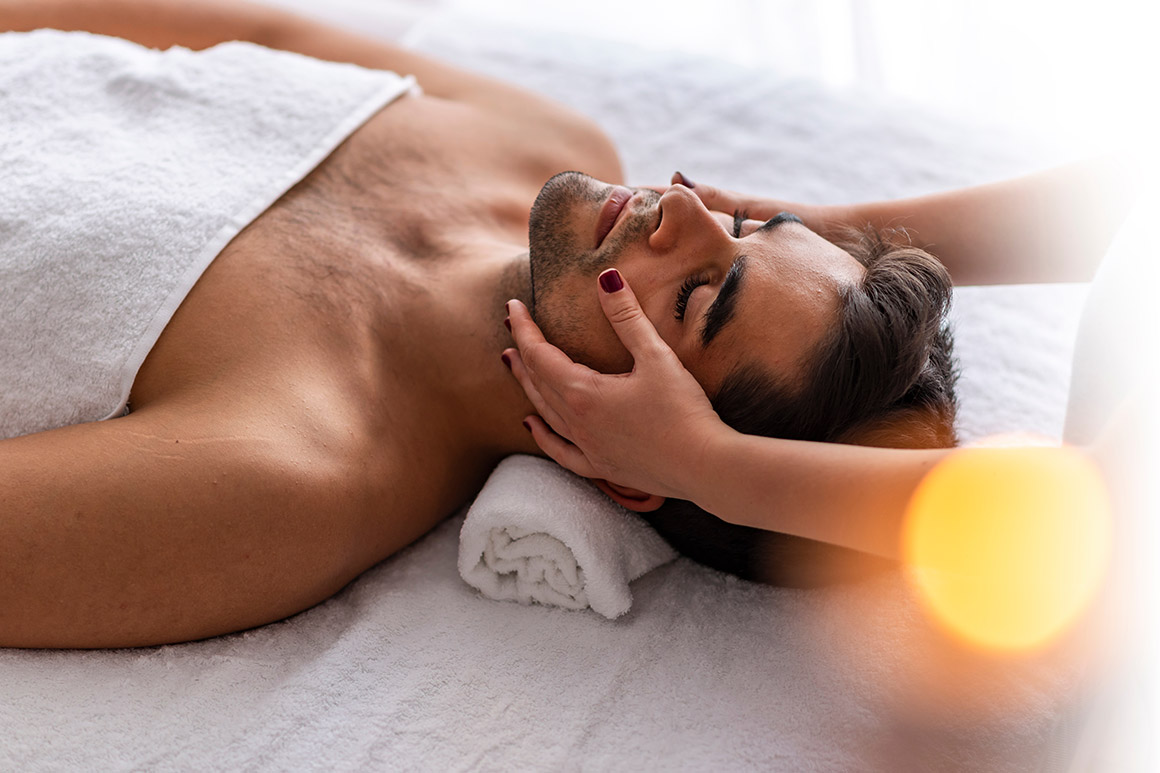 Spa package for men's groups
A beer bath, a classic massage and a moisturizing facial treatment. This is how a spa package for men is created in three steps. A whole day of sitting in a suit, shirt buttoned up to the neck, must be a real torment.
The male portion of the staff will not only have the opportunity to sip a pint of beer, but also bathe in it. We explain right away, it will be healthier for your health to take a bath than a pint of beer 🙂 In addition to liquor, men can still count on a real manly meal, beef roast beef with mustard sauce with pickled chanterelles. Sounds tasty doesn't it? Such a male beauty session tastes delicious.
Package cost approx. 240 PLN
Chocolate spa for company
This package is not dedicated to a specific gender. After all, everyone loves chocolate!
A relaxing chocolate massage relieves stress, tension, back pain, and further improves your mood. It soothes and relaxes. It's a feast for the body and senses. After the chocolate massage, it's time for an azure bath and a facial treatment, selected after consultation with a cosmetologist.
Cost of the package approx. 200 PLN (Prices depend on the selected facial treatment)
Post-conference pleasure
Extra relaxation, extra relaxation, or simply an extra spa package for groups. This is the most extensive proposal.
Individual treatments can be spread out over the days of your stay, divided into groups. What is included in such a package? A warming, deeply relaxing full-body massage with warm stones. A honey scrub and a session in a steam capsule.
The SPA& Wellness Institute offers several types of massages, scrubs, treatments. After consultation with a cosmetologist, together you will create tailor-made spa packages for groups.
Package cost: approx. 330 PLN
Beauty Ritual
Instant coffee, black strong coffee, coffee from the business coffee maker. Coffee in the evening? Non-dissolving coffee, but relaxing.
The Cappuccino Ritual provides an extraordinary relaxing experience. Who wouldn't enjoy an evening coffee body scrub, massage, anti-cellulite coffee mask and a cup of delicious coffee? Of course, everyone!
Package cost 230 PLN
Work and relaxation in one place
The spa package for companies consists of treatments that reduce stress, replenish energy, improve concentration. Conference in a spa hotel with a spa package for groups is an attractive setting for a business event. This is what professionally organized business events look like today.
Conference attendees not only meticulously listen to speakers in the training room, but also relax after SPA conferences. And it's not just about relaxation.
Hotel clubs, SPA Institutes are places where people from the business world establish business relationships, gain contacts, act professionally.
Create a 21st century event!
You will find real experts in business events at the Magellan Hotel. Here, business meets the world of SPA and comes out of it inSPAniale.
Check out offer spa packages for groups in Magellan Hotel.