It is beautiful, shiny, decorates the heart finger of a woman. It is worn with pride, it focuses everyone's eyes. An engagement ring is a trinket that appears on a woman's square in very romantic circumstances. It is a proof of love, a guarantee of fidelity, a promise of a long and happy life. Every look at the engagement ring is supposed to evoke wonderful memories, romantic moments, all the promises.
All these beautiful emotions will be provided by the right setting for the engagement. It is supposed to be romantic, sentimental and magical. That's why you've come to the right place! We will tell you how to prepare a romantic engagement in the spa. It won't be just moments, it will be a romantic weekend. The ring has long been bought, and you still have no idea how and where to ask your beloved to marry you?
How about a romantic engagement at the lake? In the package, the beach, the lake, the stars in the sky. Let this most important question have a magical setting. These are memories that will stay with you for the rest of your life.
Table of Contents:
Take your beloved to a spa for a romantic engagement
You are planning to propose. You have found the woman of your life. That's wonderful! Congratulations. She's a special woman, so the engagement can't be ordinary. It's supposed to be an event.
Every woman dreams of a unique engagement and wants to remember it for the rest of her life. In order for her to actually have something to reminisce about, you have to make an effort and prepare an engagement that will bring her to her knees (but mostly you have to get down on one knee).
Our proposal is a romantic engagement in the SPA.

A number of romantic attractions are included. No worries! We will show you how to plan such a romantic engagement step by step. It all starts with an idea. You will celebrate this engagement together, so you will take your beloved to a hotel with a spa for a weekend.
There is no shortage of offers with packages for lovers, you will certainly choose one that will meet your expectations. And here a tip from us. If you really care about a romantic experience. Take your beloved to lakeside hotel, there are quite a few such places in the Lodz province. There you can also organize a romantic engagement at the lake. However, let's go back to SPA&Wellness Institute.
Why is that where we want to send brides? It's simple, tie all these elements together: relaxing spa treatments together, romantic dinners together, a surprise for the lovers from the hotel, hotel room decorations. True, the whole thing is the perfect foundation for a romantic SPA engagement.
Will you become my wife... at the spa?
This is the most important question, it must have a magical setting. Order your engagement package well in advance. Don't reveal until the last minute where you are going. A few days before you plan to leave, plan in detail with the spa staff all the attractions.
Z pomocą kosmetologów, wybierzesz wspólne zabiegi, zabiegi dla niej oraz dla siebie. It remains to determine the menu for a romantic dinner, during which this most important question will be asked. Your beloved, will be convinced that you are taking her on a trip out of town. It will be a romantic weekend, but she won't expect such a bomb! It's time to make the final arrangements with the hotel spa staff. It's really the details now.
It's up to you to decide what form of welcome surprise you choose: a bottle of sparkling wine and macaroons or champagne and strawberries? Still the question of decoration. Will scattering red rose petals all over the hotel room and the world in the bathroom be quite a romantic decoration? Determine with the hotel staff what kind of decorations you expect. Perhaps your sweetheart likes white flowers best?
On this day you're supposed to totally surprise her, these little details will show that you've really prepared solidly for this romantic spa engagement.
Love at the SPA
This love will literally float in the air. You have arrived at your destination. It's time to realize all the points of a romantic engagement. After settling in at the hotel reception, it's time for an explosion of delight.
How beautiful it is here! What beautiful decorations! Oh my those are my favorite flowers! So get ready for this joy;) Ok, time for the highlight of this trip (well maybe, actually not the highlight). Time for a series of pleasant SPA treatments.
SPA&Wellness Institute is waiting for your arrival.

Where will you begin this romantic cruise in the temple of beauty?
To start, you will go for a Mediterranean body scrub. This is a treatment that effectively cleanses the skin. The next stage is relaxation in a steam capsule. A session in such a steam capsule has a healing, slimming and beautifying effect. This bath will improve your microcirculation, your skin will, look healthy.
It's time for facial treatments. We will start with relaxing facial massages with water tubs. At this point, you will part ways for a while. He promises, it won't take long;)
Your future wife will go for a moisturizing and brightening treatment called Beauty Hydration Ritual. This is a real relief for sun-dried skin. And you will benefit from the thalgo Aquarelle facial treatment. This is an intensely moisturizing and energizing treatment for tired skin.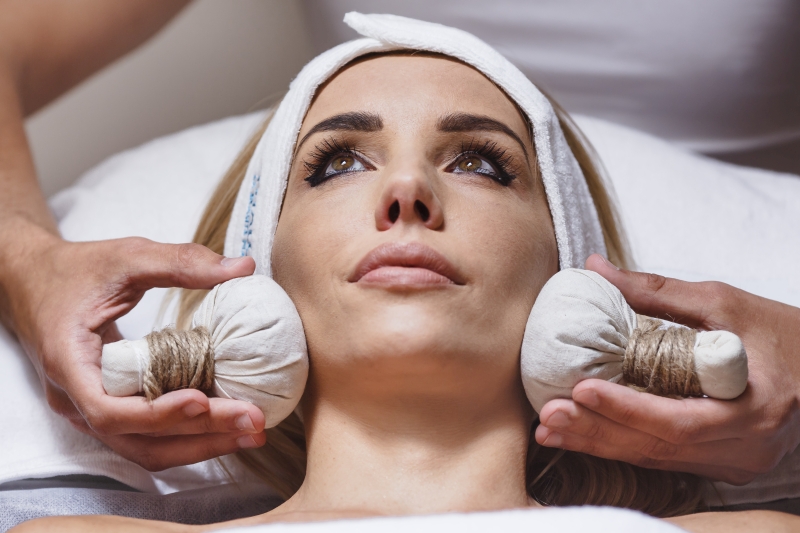 The attractions don't end there. Your romantic spa engagement, is still on. It's time for the next stage of treatments.
After individual facial treatments, it's time for a chocolate massage. A real feast for the body. What's left for you is a visit to the pool complex. As part of your stay at the hotel, you have unlimited access to the pool, Jacuzzi and sauna. Intoxicated with pleasant treatments, relaxed after your visit to the spa, you move on to the next item on your list of romantic engagements. This beauty session has prepared you for the climax of the day.
Dinner by candlelight and stars
This is going to be a romantic lakeside engagement!
Yes, we're moving from the spa to the lakeside restaurant. The beach, the sun, the water. Could it be more romantic? A visit to the spa, only lulled her vigilance, surely she is not expecting anything.
It is during a romantic dinner with dessert that this most important question will be asked. The hotel staff will take care of the romantic atmosphere, the amorous scenery. At the right moment (agreed in advance with you), the staff will serve you dishes and dessert. At your discreet sign, a string quartet, hired for the occasion, will start a concert of the best romantic songs.

Did I add that your dinner for two will be held outdoors? Yes, it will be a romantic engagement on the lake. The lake humming, the birds singing... I guess that's how it went? 🙂 The picturesque surroundings included are a guarantee of a successful dinner and engagement.
Your stay at the hotel with all the attractions and of course the romantic engagement is a perfectly staged event. Of course, with the full involvement of the hotel's helpers.
What exactly are my ideas for a romantic engagement at the lake? It's simple, you will need a beach and candles. After dinner (and, of course, after dessert), blindfold your beloved with a handkerchief and so with her eyes covered, walk her a few steps. Once she is on the beach right next to the lake, uncover her eyes.
There will be a small red box on the beach surrounded by candles. She already knows! Yes, now is the moment. Time for the most important question.
It's time for the finale of this romantic engagement. This is just a surprise. The girl agrees to live together with you, there is an explosion of euphoria. She is absolutely stunned, she is positively surprised by such a surprise. This is a real wow effect!
It worked, you created the perfect romantic lakeside engagement combined with spa activities. What will you do with the rest of such a successful evening? The first night as brides you will spend in a comfortable hotel room, but, but, you do not go to bed yet. During the holiday season, hotels very often organize discos in the evenings, feasting by the fire.
Why not like this, end this romantic day?
They're already carrying my gown and veil to me, but first.
Ideas for a romantic engagement, can be multiplied. Whether it will be a celebration with your parents, or just the two of you, it is worth remembering one thing. Engagement is an important step.
For women, it is altogether a historic moment, let this romantic engagement at the spa or this romantic engagement at the lake, be an unforgettable event.
Miłość jest piękna i wymaga niezwykłej oprawy. Jeżeli planujesz oświadczyny i nie masz jeszcze pomysłu jak w oryginalny sposób zorganizować zaręczyny? Myślisz o zaręczynach w SPA albo nad jeziorem?
W Magellan Hotel organise romantic engagementThe hotel staff will take care of the romantic setting of this event.