Behind the successes of any company are the people. Employees of the company, who as a team fight every day for customer satisfaction, consumer laurels, awards of recognition in the industry. I don't think anyone needs to be convinced anymore that organizing training and team-building events for employees is an investment that will pay off.
If you are facing the challenge of creating such an event for your company,
start with your budget and our article. Because it is here that we will reveal how much it really costs to organize a team-building event in a hotel in Lodz province. Here we go!
Organizing a team building event in a hotel in Lodz province. Why and for whom?
Your business is doing really well, your company is growing, your products are disappearing from store shelves like hot buns. Your employees are a close-knit, efficient team that records sales year after year. Great!
Such employees should be rewarded. A bonus? Vouchers? A company trip to a hotel?
Why not, after all, it has not been known for a long time that the best system for motivating employees is the one in the form of cash, material rewards or in the form of a company trip to a three-star hotel. Let's focus on the latter form of employee motivation. If your company is experiencing sales success, it's a sign that your team are born salespeople, specialists at heart. Perhaps success lies in investing in your employees.
How? It's easy, by sending employees to training courses and workshops, organizing company events and team building trips for them. Let's recall, in a really big nutshell, the most important company events that are worth organizing.
A. Training
Organized for employees for one specific purpose. The team is supposed to acquire new important skills, expand knowledge, gain new qualifications. Our suggestion? There's no need to save money on training, and certainly on a trainer. You need to hire a professional to conduct a professional course. Organization of training in a hotel The most important thing is to be sure that the event will be professionally prepared.
Knowledge transferred in the right way and under the right conditions brings excellent results.  To conduct training at a hotel you need to hire conference room As well as provide a coffee break. To help you, you still have professional staff who have literally eaten their teeth at business events.
B. Team building events
These are events that employees look forward to all year. They really are. Ask your colleagues at work. Social event may take the form of an employee trip to some tourist resort.
It can be simply an event for employees combined with creative workshops, team games.  As a rule, companies choose to organize team building events in a hotel. The price? This one, unfortunately, depends on many factors. In the cost of organization you will find the rental of the conference room, meals, accommodation and additional hotel services. You will find out exactly how much it costs to organize a team-building event in a hotel in Lodz province in a moment. In the rest of the article we will break down this cost into factors;)
C. Corporate events
Yes is a very general term. In the bag with the word corporate events, we put important events for the company. Anniversaries, new contracts, industry awards, global company successes.
Taka corporate event combined with an evening gourmet banquet, band performance and accommodation for guests Is the most expensive option for a corporate event. The cost? From several to even tens of thousands of zlotys. The corporate events described above are among the most popular, that is, most often organized by companies. Each of them differs in size, scope of services and cost of organization. When answering the question of which type of event it is worth or even necessary to organize. Consider what business purpose the corporate event is supposed to fulfill. In our article we will focus on our familiar backyard and answer the question, how much does it cost to organize a team-building event in a hotel in Lodz province?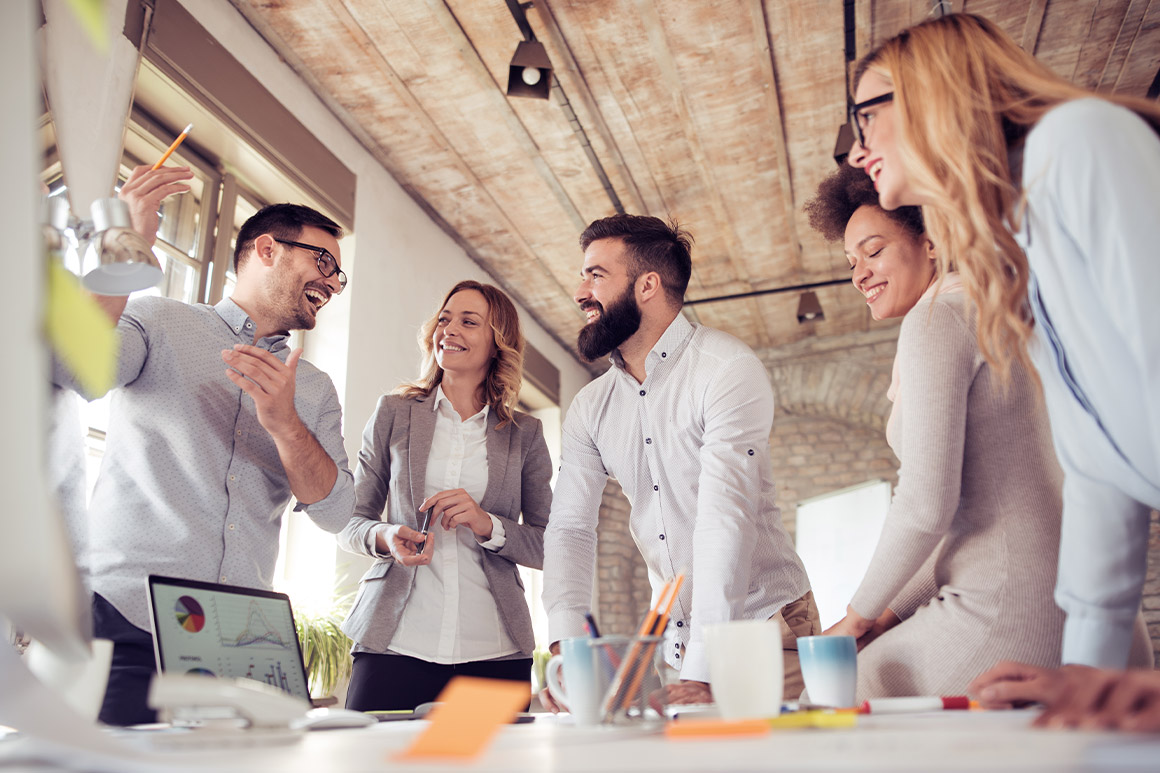 What is the price of a team building event at a hotel?
Let's start with the most important issue. Before you send a request for proposal to a particular hotel, you need to know when exactly your event will take place, how many participants will attend, and for how many people do you plan to stay at the hotel? The second issue is hotel services.
Have you wondered what you'll need for a hotel team building event? Will you need a conference room, outdoor area? Usually the price of organizing such an event at a hotel includes: accommodation, conference/training room, meals and lodging. This price already depends on the nature of the event, the rooms needed, the number of meals and additional services. Remember that we are writing here about the costs you will incur if you are organizing the event yourself and only choose the venue for the event.
If the organization of the integration is handled by an event company, which will take care of the preparation of the scenario, the theme of the event, you have to prepare for an additional cost. Of course, you can draw on the experience of the business event sales team, use their proven tips, it's a rather free service.
Conference room rental cost
After all, it's a team-building event, so there can be no shortage of joint creative workshops, group struggles, and puzzles and riddles. During these team activities you will integrate as a team, learn new skills, get to know each other. And like joint intellectual struggles, you absolutely must have a conference or training room.
The hotel offers rental of the conference room itself, e.g. for a one-day or several-hour training, or integration package,
which includes the rental of a training room. The highest interest in corporate events, hotels record from March to June and in September-October. Knowing this, don't wait to book a hotel for your event, the best places will quickly become unavailable.
Why do I mention this? To make you aware that the price of organizing a team-building event in a hotel in the Lodz region is not influenced by the particular tourist season. It will not be more expensive in June, as well as, it will not be cheaper in November. We are writing about the prices of a hotel in Lodz province, not in a tourist resort (mountains, seaside). Of course, you can count on promotions, during periods of lower interest. It remains for you to keep a close eye on the offers of selected hotels in the region.
But let's return to the topic of the price of renting a conference room. It depends on the area and the time for which the room is booked. W Magellan Hotel You can rent the room for 4 hours or 8 hours per day.
The second issue is the size of the room. We will rent a room of 50m2 for 4 h at a price of 290 PLN, a conference room measuring 305m2 for 8 h can be had for 1890 PLN. What do we get in this price? It's a fully professionally equipped room for training or conference.
There are: working audio equipment, microphones, projector, projector. These are properly lit and air-conditioned business rooms. When booking, be sure that the room you are interested in has all of these things on board. Beware of offers in which the hotel offers an overhead projector, chairs or air conditioning for an additional fee. This is an outright scam. The rooms in professional business checkout hotels are professional rooms prepared for the needs of the business client.
If not a conference room, then what?
Well, organizing a conference in a hotel in Lodz province is not limited to team activities in a conference room. Do you want to surprise your employees?
Think about renting the outdoor area next to your hotel. It can be a forest amphitheater or a garden. In such an exclusive reserved place you can organize a bonfire, barbecue or outdoor team games.
Outdoor team building events are becoming increasingly popular. In addition, organized during the summer, they are a substitute for a vacation with colleagues. Renting, for example, an amphitheater for 250 people is a cost of PLN 1,500.
Accommodation and meals. If your team-building trip will last several days, it's obvious that event participants will spend the night in a hotel.
Accommodation is a cost that goes into the price of organizing a team building event at a hotel. The price really depends on the number of people who will be staying at the resort.
For a night in a single room you have to pay about 320 PLN/ stay.
A night in a double room costs about 250 PLN/ stay. Importantly, if you have chosen a spa hotel for your event, remember that in the price of accommodation, event participants receive breakfast and unlimited access to the wellness area (pool, saunas, Jacuzzi). The price of accommodation for participants is always an individual issue in the case of corporate events. The cost of accommodation is calculated based on the number of participants in the event. You can expect that the more people staying at the hotel, the less you will pay per night. This is one of the discounts you can, count on, when organizing team building events at the hotel.
We write more extensively about this topic a little further on.
We are still left with the question of meals. Buying accommodation in the price we also have breakfast. Subsequent planned meals, i.e. lunch, dinner, are already paid extra. Not every conference organizer remembers this, so when booking a hotel, ask the sales department to include meals in the quote.
Additional services
At a team-building event at a hotel, it is not just food and lodging that a person lives. Therefore, in the program of your corporate event, think about additional attractions. Our suggestions? If your employees will be having fun in a spa hotel, think about a relaxing massage for the participants of the trip. If not a massage, then perhaps a scrub, or some body treatment? You will determine the prices of such packages, sets with the hotel's sales department. Remember spa treatments is always an additional paid service.
However, this is not the end of additional costs. If your guests want to play billiards or go on a bicycle tour during the break, you as the organizer will have to pay for it.
On request and of course for an additional fee, the hotel will prepare for your guests a barbecue or bonfire in the garden,
develops the route in the rope park, organizes the evening party in the hotel disco and prepares sports equipment. Ask yourself, what kind of activities do your employees expect? After hours of workshops in the conference room, will you be in the mood for a relaxing massage or will you be in the mood for a dance party on the dance floor? Take advantage of your employees' opinions and the hotel's experience. The sales department responsible for business events, will suggest which services are most popular, which attractions are worth organizing. Such a department of specialists is at your service with their knowledge and experience.
Take advantage of this.
Discounts and promotions
After all, each of us likes to buy something cheaper. The organization of a team-building event in a hotel, among the cheapest is not. Here you would like to save money, that order less and already the price flies down by a few zlotys. However, you will not always pay less if you order something less. In the case of the hotel industry, you can count on a discount or rebate when you book more. Yes, really.
Discounts largely depend on the number of guests and the number of nights and apply mainly to rooms and conference rooms. hough there is no denying that you can also count on a discount on spa services. You arrange everything individually with the sales department. If your team-building event at the hotel is an intimate event, for a dozen or so people, the search for promotions should start with browsing offers during the period of lower interest.
The biggest boom, hotel industries register in the periods March - June, September - October. For business offers at a lower price, look from January to February.
Winter integration at a hotel can also be a successful corporate event. 
If you are looking for a hotel to organize a team building event for your company, check out Magellan Hotel offer.
It is a modern SPA&Business hotel with considerable experience in organizing corporate events.